Producers Crew T-shirts
Black shirt with white Renegade design on the back and bold "Producers Crew" text in white outlined in metallic silver across the back. Front left chest has "CLUTCH" in red with white outline and the movie taglines "The Most Driven Car Film Ever Made" above and "There Are No Shortcuts to Victory Lane" below in white
-100% cotton Hanes Beefy T
-Short sleeve shirt
Price: $25.00

-add to cart to select size and qty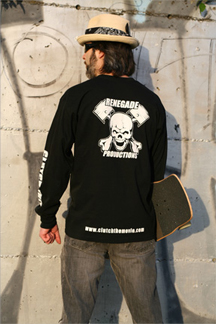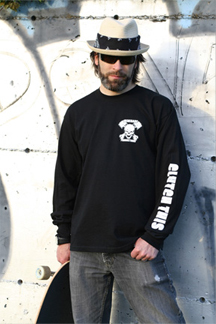 Long Sleeve Tee
This Men's Long-sleeve Tee is all attitude! Durable and bold- just like American made muscle cars. It bears the Renegade Skull Pistons/Rods and Crossbones design in white on the upper left chest. On the back of the shirt in white is a large Renegade Skull Pistons/ Rods and Crossbones design to let people know you're a dedicated gear head enthusiast. On both sleeves bold white lettering with metallic silver outline reads "CLUTCH THIS" to let 'em know you mean business! Available in your favorite color as long as your favorite color is black.
-High quality 100% Pure cotton Hanes Beefy T.
-Available in mens sizes S,M,L,XL,XXL and XXXL.
Price: $27.00

-add to cart to select size and qty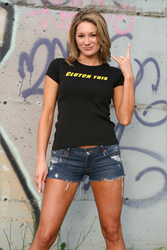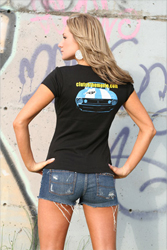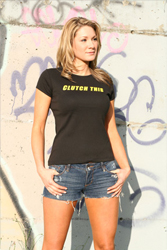 Babydoll Tee
Break away from the pack in this anything-but-ordinary gals' soft cotton tee! It's got 100% attitude and zero pretense. You'll have all the boys attention- and the '67 Camaro Z/28 movie car star on the back of this baby-cut tee proclaims you an official "Clutch Cutie." And who could argue with that? Goes great with a pair of faded jeans and some kicks for some rowdy fun or laid back weekend wear. Makes for one cute and sexy T-shirt.
-Baby-cut fit
-100% cotton construction and machine washable
Price: $18.00

-add to cart to select size and qty