http://rushforthwheels.com
http://jasonrushforth.com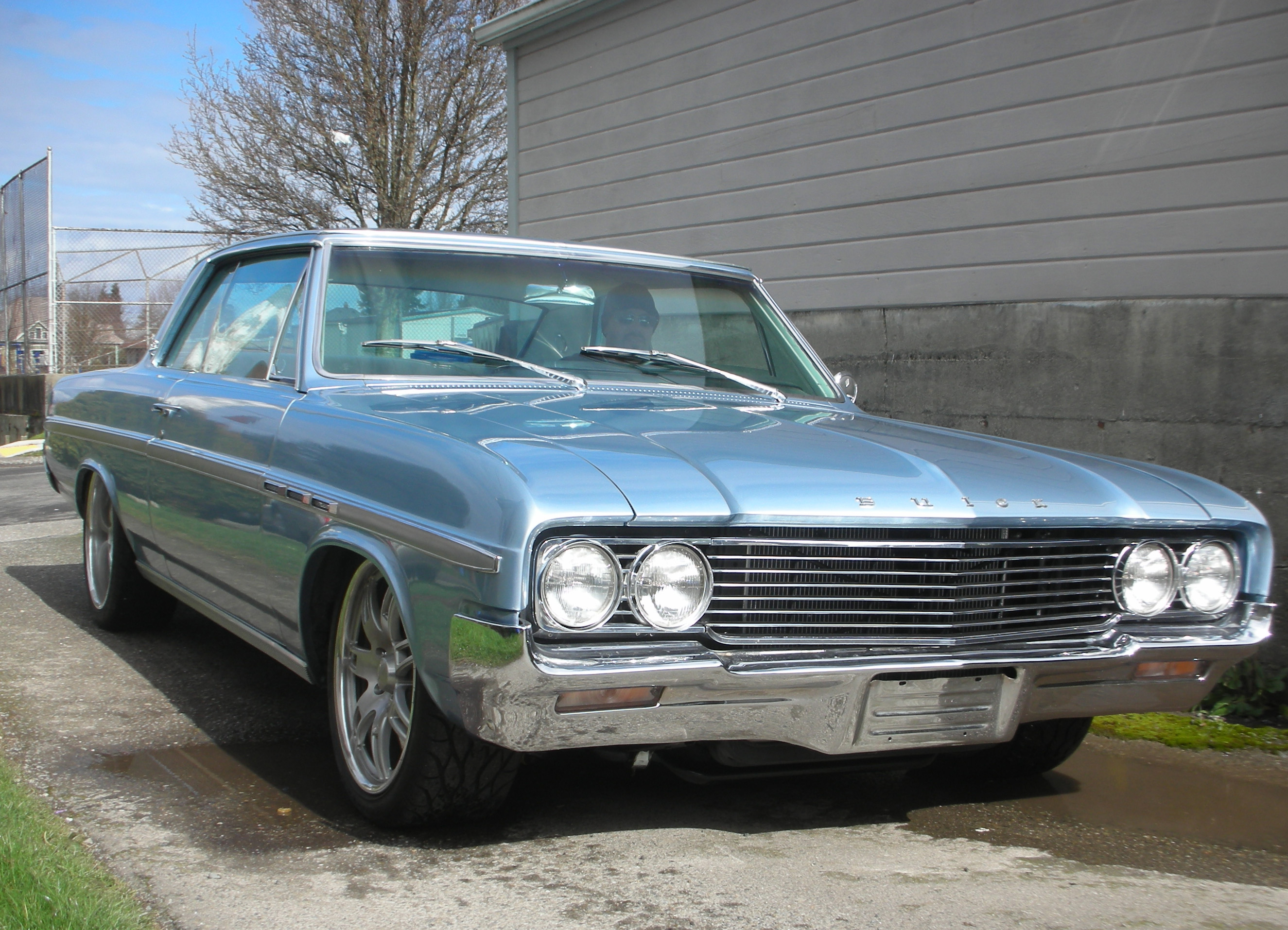 A few weeks ago I ripped the '70 Camaro SS 396 project out to Tacoma to hang out with Jason and check out his bad ass '64 Buick complete with new EFI computer-controlled LS2 engine and Hotchkis Suspension. We were going to meet up at his place and then take both rides to the Griot's Garage Saturday morning car show/ open house. Maybe it was the awesome harmonic sounds of that Flowmaster 3″ exhaust driving a steady 70mph on Interstate 5 at 7am, the constant whine of my rear differential that's going out or the fact I hadn't got much sleep the last several weeks. Whatever it was I blew past my exit by about 10+ miles. When I hit Fort Lewis military base I knew I went to far, called Jason to let him know I was now going to be late and had him give me some new directions.
We had a great time at Griot's checking out the cars, shop, BS- ing etc. Jason, however was bummed all the doughnuts were gone by the time we got there. That's my fault so I'll buy him a Krispy Kreme sometime.
We planned to leave Griot's, drop off my car at Jason's so he could take me for a run in the "Company Car". Unfortunately Jason's car wasn't starting right up and seemed to be flooded. Eventually it got started and we hit the road. Jason was leading the way to his house and while we were stopped at light on a 4 lane highway I noticed his car had died and wasn't starting. I jumped out of my car, a cool cat in his lowered Honda in the lane next to Jason maneuvered his car to block traffic so I could push Jason out of the left turn lane across two lanes to the right and down a hill. As I pushed Jason's car past the dude blocking traffic for us I thanked him and he was just smiling and going on and on about how awesome Jason's car looked. I kept thinking "I just left an SS 396 4 speed car parked running in a turn lane on a highway in a town I don't know"- no worries though, I ran back climbed in and mashed the gas across the lanes and down the hill towards Jason.
Jason compression started his car (Keisler 6 speed) and we were back in business. While arriving at his house I was getting ready to give him a hard time about his techy LS/ Computer/ EFI engine acting up. After all, I was driving the carbureted beast that had ran great all day. Plus, I wanted to give him some ribbin' because when I told him I was dropping in a dual quad tunnel rammed 396 into the '70 Camaro, adding an L-88 Hood and Centerline's he was like "don't do do it!".
Right about the time I stepped out of my car and was about to yell some smart ass remark over to him about plugging a computer into his car I slammed my door shut. Just as the door slammed closed I realized my keys were in the ignition and the doors were locked. Way to go. I then kept my smart ass remark to myself and felt Karma was at work preemptively.
Locking the keys in my car is not an uncommon occurrence. I have gained some experience breaking into my own cars over the years. First time with this Camaro. It has the security locks you can't hook anything on to and no rear quarter windows I'm used to like on the first gen's. I had one hour before I had to leave Tacoma. After a trip to Harbor Freight for a slim jim they don't sell and some lame attempts with a drain tool I modified we exhausted all efforts and then called Triple A. I felt a little better when it took the AAA guy several attempts with all his trick tools.
Even under the gun with my schedule and lock out issues we managed to get in some driving with the Rushforth company car. Man that thing handles great! Way to go John Hotchkis! The first thing Jason did was throttle that 4,000lb+ car towards one of those (annoying) concrete, wheel destroying doughnut's in the center of Pacific Northwest's side streets. I do the same thing but I'm in much lighter and agile Camaro's. Even though I knew Jason autocrosses this car I didn't know if it was going to make it around that thing without ruining some wheels and tires at that speed. Double checked my harness, braced a hand on the seat and whip, wow- that car went around that sucker better than I ever expected! I can't wait to get the Hotchkis Total Vehicle System installed on the Camaro's! We ripped around for a while and I was completely impressed by the handling, braking and acceleration (even though Jason felt bad it was running out of tune) of this car- a 1964 Buick Skylark. Man that thing not only handles great it rides sooo nice and looks great. Those Rushforth wheels make the package man. I'll be putting a set on my Pro-Touring ride for sure.